Isolaz Special
We are offering a special promotion:
PURCHASE A PACKAGE OF 5 ISOLAZ TREATMENTS AND GET THE 6TH FREE!
SilkPeel Special
We are offering a special promotion:
PURCHASE A PACKAGE OF 4 SILKPEEL TREATMENTS AND GET THE 5TH FREE!
Barnett Dermatology Gift Certificates
A beauty treatment is always a welcome indulgence and a thoughtful gift. Barnett Dermatology is pleased to announce that we have gift cards in any denomination available for sale. Certificates can be redeemed within one year of purchase for any cosmetic treatment, from SilkPeel facial treatments to Botox treatments, and for any skin care products. If you know someone who enjoys the best in skin care, consider giving them the opportunity to experience innovative, cutting edge dermatologic expertise and care. Please call our office at (212) 734-2800 for more information or to purchase a gift certificate.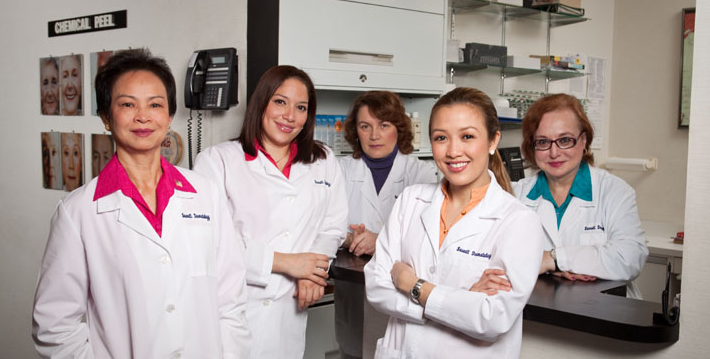 Patient Testimonials
Jonathan
Dr. Channing Barnett is an excellent dermatologist. Professional, knowledgeable, personable and never keeps you waiting or rushes you. I would refer any friend or family member to Dr. Barnett. She is truly a great dermatologist!
Kathy
I have been a patient of Dr. jay Barnett for about 20 years. I have been so happy with the care I get in the office. Then I met Dr. Channing and she is a plus to the office. I have sent at least 10 new patients including my 88 year-old mom. Need I say more about a great father and daughter team.
Julia
I went to Dr. Barnett because I have been experiencing horrible adult acne for the past three months. I tried every product from drugstore topical treatments, expensive designer or name brand products, and was prescribed some antibiotics and a topical cream, but nothing was working. It had all been very stressful and I felt like I lost all my self-confidence and was desperate to try something that would work.
Cathy T
I just want to say how pleased I am with my procedure! Dr. Jay Barnett did an excellent, precise job with the silicone injections into my acne scars. I can finally walk around with confidence. This had done wonders for my self image. I only wish we took after pictures to see the mind blowing difference
David
Dear Dr. Channing Barnett, The internet has made searching for a doctor much easier. We can research a doctor's education, experience, location and review comments made by other patients. Still, there is a lot of luck involved in selecting the right doctor. I was very lucky. From the moment I walked through the door of Barnett Dermatology, I knew I made the right choice. Great doctor! Great team. Not only would I highly recommend Barnett Dermatology, but I am planning to go back myself. Thanks for being you